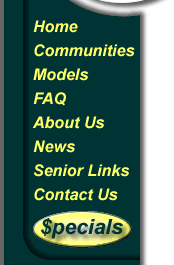 Resales


6 home(s) found available in the Orangewood community.


- Clarmont
Model Number

Click to enlarge

Bedrooms

2

Bath

1

Approx. Sq. Ft.

728

Approx. Home Size

14x52

Year Built

1984

Price

$16,000

Details: 2bd/1bth in a beautiful 55+ active community. This is the Florida home you have been looking for. Mostly furnished, carport, screen room, shed, awnings, builtin closets/drawers in bedrooms, and central a/c. Call Brenda 727-243-5336 For a virtual tour click here

Address: 7915 Sun Runner dr.

- Camelot
Model Number

Click to enlarge

Bedrooms

2

Bath

1

Approx. Sq. Ft.

576

Approx. Home Size

12x48

Year Built

1981

Price

$9,000

Details: cute 2bd/1bth in a 55+ active community. This mobile needs a little tlc but has a lot of potential. On the pond and a quiet street. Community has a heated pool, large clubhouse, bonfire pit, horse shoes, shuffleboard courts, and friendly residents. call Brenda 727-243-5336 For a virtual tour click here

Address: 7830 Lynbrook Dr

- Camelot
Model Number

Click to enlarge

Bedrooms

3

Bath

1.5

Approx. Sq. Ft.

864

Approx. Home Size

24x36

Year Built

1984

Price

$28,000

Details: 3bd/1.5th in a 55+ active community has a newer $4,000 a/c unit! (only 2 yrs old) On a quite and very nice street. has a screen room, open concept for kitchen, living area, comes furnished right down to the dishes. Please call Brenda 727-243-5336 For a virtual tour click her

Address: 7750 Lynbrook

- Concord
Model Number

Click to enlarge

Bedrooms

2

Bath

1

Approx. Sq. Ft.

732

Approx. Home Size

12x61

Year Built

1974

Price

$18,000

Details: 2bd/1bth in a 55+ active community. This mobile has been beautifully redone. all new floors, walls, paint,and screens in Florida room. open concept and roomy, central a/c, large carport, pretty kitchen, and exterior freshly painted. Call Brenda 727-243-5336 For a virtual tour click here

Address: 7744 Greenlawn Dr

- Clarmont
Model Number

Click to enlarge

Bedrooms

2

Bath

1

Approx. Sq. Ft.

1112

Approx. Home Size

14x52

Year Built

1983

Price

$24000

Details: 2bd/1bth in a 55+ active community. Just bring your toothbrush and kick your feet up in your lovely Florida home! This mobile is freshly remodeled and tastefully furnished with many new items. Also has a large laundry/storage room and a very large Florida room. The mobile features a new roof, new a/c, skirting, flooring, dry wall, kitchen, and bathroom. For a virtual tour click here

Address: 7745 Orangewood Lakes Rd

- Clarmont
Model Number

Click to enlarge

Bedrooms

2

Bath

2

Approx. Sq. Ft.

840

Approx. Home Size

14x60

Year Built

1982

Price

$25,000

Details: 2bd/2bth in a 55+ active community. This one won't last!! The mobile has all new insulation and vapor barrier, all new duct work, newer appliances, Newer 3 ton a/c, large carport, and on the pond. Call Brenda 727-243-5336 For a virtual tour click her

Address: 6340 Rambling Rd

Not used in Current Template

Click here for printer friendly version

Back to community page