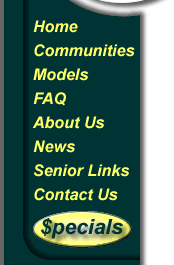 Resales


4 home(s) found available in the Orangewood community.


- Clarmont
Model Number

Click to enlarge

Bedrooms

2

Bath

1

Approx. Sq. Ft.

720

Approx. Home Size

12x56

Year Built

1984

Price

$14,000

Details: 2bd/1bth in a 55+ active community. Very nice, very clean. this mobile has a lifetime roof, new stove, newer sub floors, and flooring, a fridge, washer, and dryer. Low lot rent. heated pool, clubhouse with lots of activities,shuffleboard, horse shoes, and paved bbq area. Friendly residents. call Brenda 727-243*5336 For a virtual tour click here

Address: 7915 Sun Runner dr.

- Vaga
Model Number

Click to enlarge

Bedrooms

2

Bath

1

Approx. Sq. Ft.

672

Approx. Home Size

12x56

Year Built

1974

Price

$14,900

Details: 2bd/1bth in a 55+ active community. this mobile has been beautifully remodeled! all new sub floor, flooring, dry wall, appliances, window air units, cupboards, bathroom, and kitchen!!! call Brenda 727-243-5336 For a virtual tour click here

Address: 6441 Belle Terre

- Nova
Model Number

Click to enlarge

Bedrooms

2

Bath

1

Approx. Sq. Ft.

784

Approx. Home Size

14x56

Year Built

1981

Price

$16,500

Details: Lovely 2bd/1bth in a 55+ active community. Large living area, mostly furnished, view of small lake, 2 storage sheds, carport, screen room, and very clean. lowest lot rent in this area, beautiful heated pool, clubhouse with activities, shuffle board, horse shoes, and friendly residents. Call Brenda 727-243-5336 For a virtual tour click here

Address: 6335 Rambling Rd

- CLAR
Model Number

Click to enlarge

Bedrooms

2

Bath

1

Approx. Sq. Ft.

672

Approx. Home Size

12x56

Year Built

1986

Price

$13,900

Details: 2bd/1bth in a 55+ active community. upgraded sub floors, flooring, kitchen and bathroom!!! home has central a/c, built on shed, carport, and partially furnished. Lowest lot rent around, heated pool, clubhouse with a lot of activities, and much more. Call Brenda 727-243-5336 For a virtual tour click here

Address: 6516 Rambling Rd

Not used in Current Template

Click here for printer friendly version

Back to community page