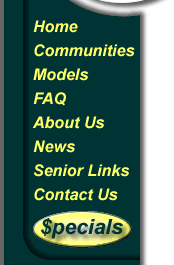 Bring a copy of this floorplan to your sales center.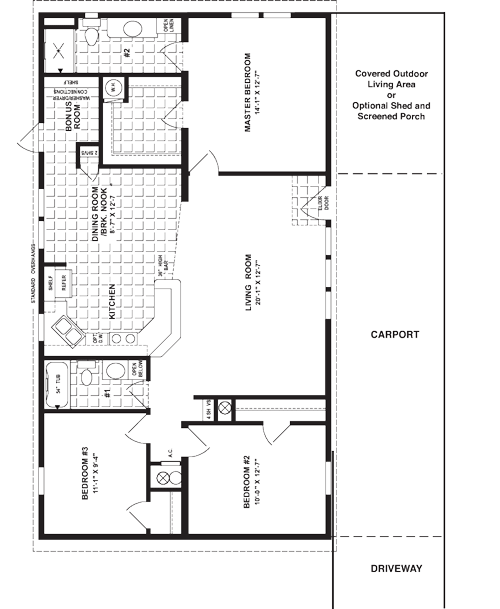 Click image to enlarge
Details

Model
The Magnolia
—Home Size
1344 Sq. Ft.
—Garage Size
Sq. Ft.
—Porch Size
192 Sq. Ft.
—Shed Size
Sq. Ft.
—Carport Size
384 Sq. Ft.
—Breezeway Size
Sq. Ft.
—Approx. Total Size
Sq. Ft.

Bedrooms
3
Bathrooms
2
Key Features:

Gourmet Kitchen
3 Bedrooms, 2 Baths Split Plan
Great Room/Open Plan
Custom Cabinets & Upgrade Appliance Package
Very Large Bedrooms
Glamorous Master Bath w/ 2 Sinks & Linen Cabinet
Walk-in Closets




PDF Brochure

Call 727-741-5853 today for more information!



Water
Sewer
Trash Pickup (Twice Weekly)
Full use of recreational facilities
Lawn Mowing & Trimming
Street Lights

Click image to enlarge

Because Florida Communities.com has a continuous product updating and improvement process, prices and specifications are subject to change without notice or obligation. Likewise, the renderings and floor plans shown, are representative only and may vary from the actual home. Square footages are approximate and subject to industry standards. Pricing and available options my vary due to federally mandated thermal and wind zone requirements, geographical location, transportation, etc. Contact our sales location for pricing and construction information.

Back to listing(s)


Click here for printer friendly version