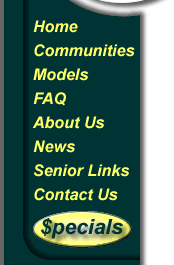 Take a Firsthand Look!
Be our guests for a 3-day/2-night stay and experience first hand
Ramblewood Village's Active Adult Florida Lifestyle
You are invited to visit our community Ramblewood Village and stay for three days and two nights for only $69.00, with free R/V Storage.
You'll be able to see the community first hand, visit the model homes, meet our residents and take part in activities like swimming, shuffleboard, horseshoes & bocci ball. Or just relax and enjoy the Florida sunshine.
We will show you around, answer your questions, treat you to lunch at a fine area restaurant, and give you an insider's perspective of living at Ramblewood Village. You'll also have a chance to familiarize yourself with the surroundings, and explore the local shopping, dining and recreational facilities.
If you purchase a home at Ramblewood Village. We'll refund your $69.00 and your transportation costs (airfare or mileage up to $500.00). Refund applies to purchase of a new home only.
To request a Discovery Visit please click the link below. For immediate assistance (9-5 M-F ET) call toll-free (877) 706-6642 and ask for Angela.

---
REQUEST DISCOVERY VISIT
---
IMPORTANT GUEST INFORMATION

The popularity of our Discovery Visit Program requires that we establish guidelines to accommodate all of the reservation requests we receive on a first-come first-serve basis and subject to availability.


At least one Guest must be 55 years of age or over. The fee amount of $69 is subject to change without notice. This offer can be revoked at any time.



The Guest reservation fee must be paid in advance of your scheduled arrival date. Your reservation will be confirmed upon receipt of a credit card number (VISA, MasterCard only) or check.



Anyone who has already purchased at Ramblewood Village is not eligible for this Program.



To cancel your Discovery Visit reservation, you must notify Ramblewood Village at 1-877-706-6642. A complete refund will be issued if we are notified at least 7 days prior to your scheduled check-in date. No refunds will be issued without such prior notice.



Ramblewood Village is not responsible for articles left in your Guest accommodation. No Pets are allowed in Guest accommodation. Smoking is not allowed in Guest accommodation, but of course you may smoke outside.



As a Guest of Ramblewood Village, you are expected to leave your Guest accommodations as you found them. Ramblewood Village reserves the right to assess additional charges for theft or damage and to pursue legal remedies at Guest's expense.



Ramblewood Village reserves the right to deny participation to anyone not seeking to purchase a new home within one year or who otherwise does not meet our guidelines. Anyone who has been through the Program before must receive approval from Ramblewood Village to visit again.



Travel, meals (other then the lunch offer), transportation and incidentals not included.



---
Click here for printer friendly version