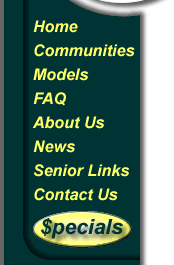 Upcoming Events
Zephyrhills:
• Halloween Howl on Main Street ~ Saturday, October 28th from 4-9pm.
• Run for the Hills 5K at Florida Hospital ~ TBA
• Yard Sale/Flea Market at the Lions Club at 5827 Dean Dairy Road on November 4th from 8am-Noon
• Harvest Festival Family Event at Zephyr Park on November 4 from 10am-3pm
• Veteran's Day Parade on Zephyrhills Main Street at 10am on November 11th.
• Zephyrhills Christmas Parade in Downtown Main Street on December 2

Dade City:
• Fall Antique Faire in Downtown Dade City on October 14th
• Scarecrow Festival at the Pioneer Florida Museum & Village on October 14th. (15602 Pioneer Museum Road, Dade City).
• 51st Annual San Antonio Rattlesnake Festival is October 21st from 9am -4pm at the San Antonio Park.
• Dade City Christmas Parade in Historic Downtown Dade City on December 1st at 7pm. However, come early to get a parking spot and bring chairs to sit curbside.
• 29th Annual Florida Bug Jam Car Show on November 11-12 at the Dade City Fairgrounds. www.floridabugjam.com/

Tarpon Springs:
• Sunset Beach Concert Series ~ October 5th from 7-9pm on Sunset Beach.
• Oktoberfest at Tarpon Tavern all weekend long from October 6-8th. Festivities are held at Tarpon Tavern located at 21 N. Safford Ave, Tarpon Springs.

Surrounding areas:
• Fall Fun at Disney's Fort Wilderness Campground on October 5th beginning at 5:40pm.
• Wesley Chapel Shabby Chic Vintage Market & Artisan Day at The Grove at 6105 Wesley Grove Blvd in Wesley Chapel on Sunday, October 22 from 10am-4pm.
• Rootstock Plant & Garden Festival on October 21st from 8am-5pm at the beautiful Bok Towers in Lake Wales.
• 13th Annual Wesley Chapel Fall Festival at The Grove on October 28-29.
• 17th Annual Florida Hospital BOLTRun held at the Amalie Arena on October 21st from 5:30am-8:30am
• Florida Autofest at the Sun'n'Fun in Lakeland – November 10-12. www.carlisleevents.com
Pioneer Days Festival
Oct 27, 2017 - Oct 29, 2017
All Day
Pioneer Day first began in 1977 as an annual event held on the last Saturday in October or the first Saturday in November to celebrate the community's history and its earliest pioneer settlers. As part of the Pioneer Day celebration, traditional crafts are demonstrated and sold. There is also plenty of entertainment, with everything from the Highlander marching band to carriage tours and antique car parades. Special events include Pioneer Hour at 10:00 a.m. on Saturday with the naming of this year's Pioneer of the Year, and at Noon there will be an antique car parade. Pioneer Days Festival activities include crafters, demonstrators, re-enactors, an Antique Car Parade, a free architectural carriage tour, entertainment and much more.
Event Schedule
Friday, 5:00 - 7:00 p.m. (Reception at Depot Museum)
Saturday, 9:00 a.m. - 7:00 p.m.
Sunday, 11:00 a.m. - 4:00 p.m.

---
Attractions
Bok Tower Gardens - Lake Wales
Bok Tower Garden's historic beauty is a treat for all ages.Located on 250 acres of exquisitely manicured gardens that surround the 205 foot marble & coquina carrillon tower, Bok Tower Garden's offers something for the entire family: feed the swans, tour the magnificent Pinewood Estates, listen to the soothing chimes of Bok Tower, dine at the Blue Palmetto Cafe, shop at the Tower & Garden Gift Shop and much more!Visit their website at www.boktowergardens.org or call 863-676-1408 for more information!

Fantasy of Flight - Polk City
Get ready for an amazing adventure & fire up your sense of wonder! Fantasy of Flight celebrates the spirit of adventure that has inspired aviators for over a century. Experience a one-of-a kind journey by piloting your own virtual hot air balloon or take a ride on the wind in a hands-on hang glider simulator. Go on a guided tour of their runways, hangars & private airfield. View over 40 vintage aircraft painstakingly restored to pristine conditiion. Fantasy of Flight is the only attraction in the world to fly daily aerial demonstrations of vintage aircraft!Visit their website at www.fantasyofflight.com or call 863-984-3500 for more information!

LEGOLAND Florida - Winter Haven
LEGOLAND Florida is geared specifically towards youngsters ages two through 12. With over 50 family rides, "hands-on" attractions and shows, LEGOLAND Florida provides education, adventure and fun in this second park of its kind in the United States. LEGOLAND Water Park at LEGOLAND Florida features a wave pool, Build-A-Raft lazy river, tube slides, body slides and an interactive water-play structure - DUPLO® Safari (closed seasonally).
Visit their website: www.florida.legoland.com or call (877) 350-LEGO(5346) for more information.

Sun 'n Fun - The Florida Air Museum - Lakeland
The Sun 'n Fun complex is home to the Florida Air Museum, Florida's official aviation museum and education center. The museum hosts an ever expanding variety of educational programs and events, including aviation summer camps, Wings 'n Things, First Flights program, teacher workshops and more. The museum is also home to the FAA Production Studio, which produces safety videos and seminars for distribtion world-wide via their satellite uplink system. Facilities Rental, aircraft restoration, a gift shop and other aviation events are only a few of the complex's other year-round activities. Visit Sun 'n Fun anytime of year for a unique aviation experience.Visit their website at www.sun-n-fun.org or call 863-644-2431 for more information!
---
Restaurants
Beef O'Brady's
902 Polk City Road
Haines City, FL 33844
863-419-4848
Frescos Bakery & Bistro
132 S Kentucky Ave
Lakeland, FL 33801
863.683.5267

Click here for printer friendly version